Microhard IoT Device Monitoring & Management
The new Microhard IoT Portal provides a cloud based, premium subscription service for advanced monitoring & management of Microhard cellular devices. The Microhard IoT Portal maintains a constant, lightweight, secure SSL/TLS MQTT connection to ensure that the most current information about a device is available and that changes can be made quickly. Any device that is connected to the Microhard IoT server can be securely accessed via its WebUI or a SSH terminal using our secure reverse tunneling capabilities. The Microhard IoT Portal delivers the next generation of cloud based device management.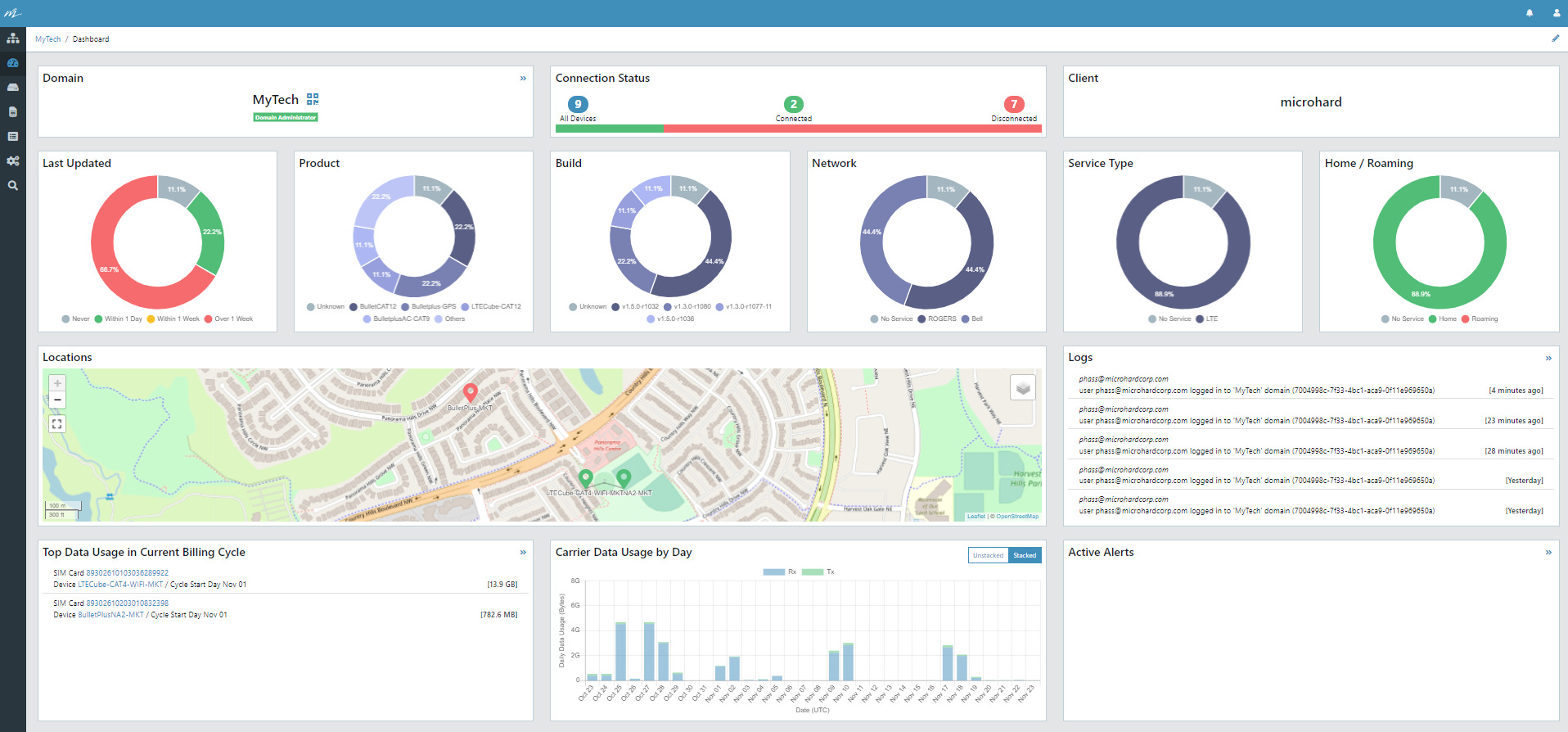 Contact us at info@microhardcorp.com for more details!
Features
Premium subscription based application with flexible licensing options
Cloud (Azure) based application with multi-user capabilities
Secure persistent SSL/TLS MQTT connections to devices
Detailed graphical representation of Microhard Cellular Devices
Fully Customizable Dashboard (Add/Remove/Arrange)
Quickly access device details with customizable, sortable, filterable device lists
Bulk/centralized wireless firmware upgrades
Granular configuration of parameters
Element by element configuration of individual parameters
Powerful filtering and search functions
Secure access to device configuration WebUI & SSH terminal (reverse tunnel)
Advanced event and action logging, event history
Import/Export event logs
Detailed Device Data Usage Reporting & Alerts
Monitor status, RSSI, Ec/No, uptime, etc
Backup/Restore device configurations
View device location & location history
Automatic registration & secure certificate generation
Organization specific registration codes